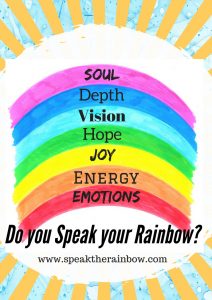 An outstanding speech has seven elements: red emotions, orange energy, yellow joy, green hope, blue vision, indigo depth, and purple soul. I call this a rainbow speech.

By creating a rainbow speech, you ensure you connect colorfully with your audience.

                                                      David Martin
Let's begin with you – my audience at the end of the rainbow. This blog is about how to speak the rainbow of seven colors which create magic moments for your audience and you. Do I know everything about this magic? Certainly not. For many years I struggled to shine as a public speaker and comedian. My struggles brought me to my rainbow theory, and my blog is a place to explore, expand, and share my ideas, experience, and passion for public speaking with you. I hope you will speak your rainbow by connecting with me on this journey. Do you Speak your Rainbow?