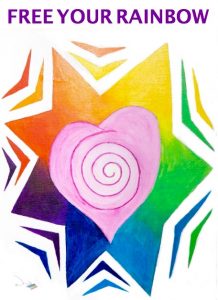 Colorful connections and David Martin present FREE YOUR RAINBOW, a public speaking workshop based on the original Speak the Rainbow™ concept.
This workshop, based on 7 rainbow colors, offers you a visual, original and fun method for understanding how great speakers connect to their audience. You will practice techniques and improvised speaking exercices which will free your rainbow from fears and false beliefs as a speaker.
https://www.youtube.com/watch?v=W6LxSW8EF
Bonus : Marie La Voix Etoilée will use her magic powers and the method of Systemic Constellations to make you feel in your body and empower some new forces : confidence, spontaneity, creativity.   Join us to discover your power to connect colorfully !!! Dates possible in Paris, France or wherever the rainbow connects us.